Sugilite is quite a rare gemstone. It was first discovered in 1944 by a Japanese petrologist named Ken-ichi Sugi, which is where it gets its unique name. Chemical composition:Sugilite is a sodium-potassium lithium silicate mineral that gets its color from a small amount of manganese. Locations:High-quality specimens are rare and are sought after by gemologists and collectors worldwide, like Japan, South Africa, India-Rajasthan, Canada, Liguria, Tuscany, Italy, New South Wales, Australia, Tajikistan. Color:The top quality and the most desirable sugilite play with colors like purple, pink, violet, blue, but you can find it also reddish, light brownish-yellow, colorless. Ironically the...
---
What is Labradorite?
Labradorite is a type of Feldspar, which is a group of rock-forming minerals that forms up to 60% of the Earth's crust.  The color range includes white, yellow, grey, which can form a display of spectral colors due to interference of light rays, which causes Labradorite to show broad patches of peacock blue, coppery red, or dusky gold.
---
Quartz Crystal versus Crystal Glass You've probably heard the term 'crystal glass' normally attached to an expensive wine glass, or if you happen to be really rich maybe a chandelier, but despite these items containing the word 'crystal' and resembling clear quartz there are very little similarities between the two. I'm just going to give a very basic overview without getting too much into the hardcore science that separates these to visibly similar objects.Quartz crystal is grown through a mixture of environmental conditions and time, this could be grown naturally, or grown under laboratory conditions (where the crystallization process can...
---

The mystery of color-changing Moonstone The name "moonstone" was given because the floating light resembles the glow of the moon through a thin cloudOrigin of The MoonstonesSmall amounts of Moonstones are found in many other countries around the world but the most beautiful with high quality are mined from Sri Lanka, Brazil, and India.The mystery of color-changing MoonstoneIt's called Adularescence.Adularescence is observed in pieces of Moonstone or Labradorite that contain thin alternating layers of other minerals as Orthoclase and Albite. Light, penetrating one layer after another, is bent, reflected and scattered at the surface of each layer. The scattered light...
---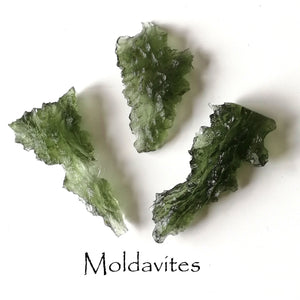 History of Moldavite A meteorite struck Central Europe 14.7 million years ago, creating the Ries crater, which is 24 km wide and 3 km deep in which the city of Nordlingen was built. The strike created unique green tektites that rained down over an area of between 300km and 600km from the impact site. These semi-translucent green tektites have never been observed in any other known impact, and this makes Modavite genuinely unique.What is a Tektite?Tektites are a form of natural silica (similar to onyx), but instead of being formed by the heat and pressure from volcanic activity tektites are formed...